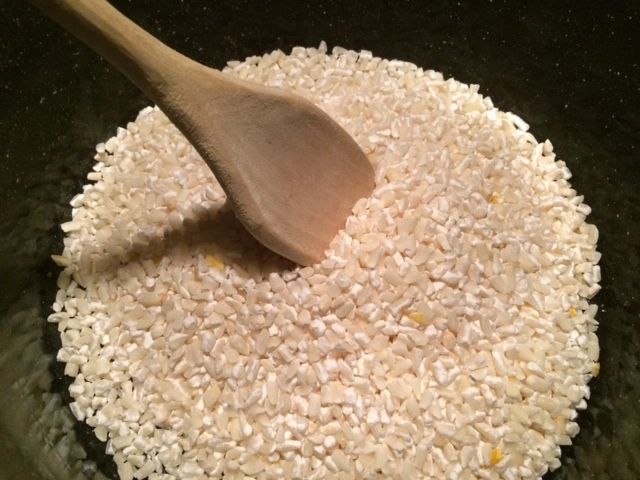 (Samp as it comes from the store before cooking)
I'm recovering from my latest cooking presentation at Southampton's Rogers Memorial Library. Pure exhaustion has turned to satisfaction now that the event is over.

When the library contacted me asking if I would do a presentation on traditional Southampton foods for their 375th anniversary, I was thrilled and honored to be asked. But then choosing a dish to make was a daunting decision and took some time.

What did Southampton's early settlers eat exactly? Would it taste good by today's standards? Should it be a 1600's era dish or something more recent? I finally settled on a traditional and historic dish that tells a little of the history of both the early settlers and the Shinnecock Indians, who were here when the English arrived - Samp.
According to the American Heritage Dictionary , Samp is of native American origin. The Merriam-Webster Dictionary indicates its first known use in 1643.


It's credited to the Narragansett word "Nasaump", which means hominy. The Narragansett Indians called dried hulled corn "Corn Samp", which meant "Corn softened by water".

The Shinnecock are descended from the Narragansett and Pequot peoples of Southern New England. The Shinnecock and Wampanoags also had their own versions of samp. I'm pretty sure every Native American tribe that grew and ate corn has their own samp recipe.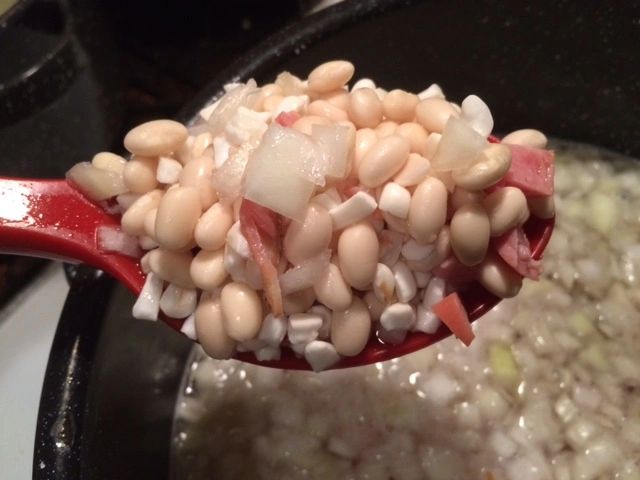 (Samp boiled down with beans, onions, pork and bacon)


Tribes used lye to remove the corn hulls. Where did Native Americans get lye you ask? They made it from hard wood ashes. The ashes were soaked in water, then once the corn was dried, the kernels were removed from the cob and boiled in the lye (ashes) mixture. Then they were washed and rinsed in fresh water. The kernels were then churned and agitated in more fresh water by hand to remove the hulls, then rinsed several times to remove all lye residue.
The Shinnecock introduced samp to English settlers when they arrived on the eastern end of Long Island. The Shinnecock were already growing corn and shared several of their dishes with the new residents.

The settlers added meat to their version of samp; pork, beef, ham, whatever was available. They made a type of "Succotash" of the hulled corn, adding meat and various vegetables.

This was hardy, "stick to your ribs" food. Samp soon became a staple for East End residents. It was easy to prepare and could be saved and eaten the next day, plus it traveled well. The thick, rich gruel could be packaged and taken on the road. Eventually it became a weekend tradition when cooking on Sunday was frowned upon.

I am not a big fan of beans or corn, so to me the texture of samp was a bit of a chore to eat. Heavy and filling, but not fun. The kernels are big and take time to chew. I see it more as a side dish than a main course. The dish has been criticized for its lack of flavor, but that really depends on who's cooking. It can easily be spiced up or down. Admittedly seasonings back in the day were a bit limited, but that doesn't have to be the case today.

Today samp is nearly a forgotten dish on the East End. Some have heard of it, few have had it, many have never heard of it.
Catena's Food Market in Southampton is one of the few places that still sells samp. Catena's owner Victor Finalborgo says he still sees a small and dependable clientele who come in for their samp.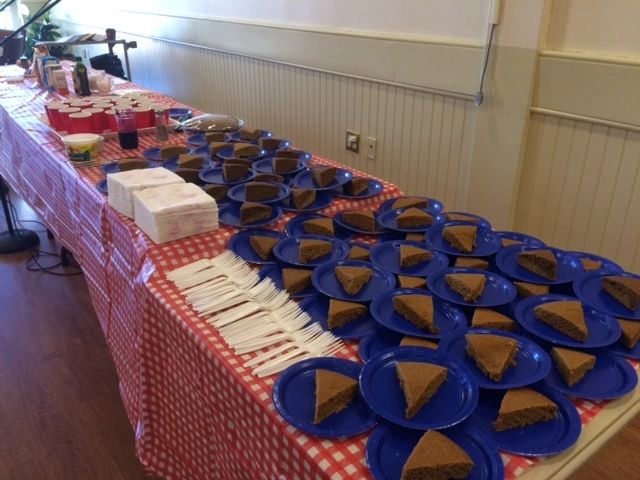 One of the women attending my class recounted her memories decades ago as a teacher working in the Springs section of East Hampton. She recollected how back then most of the children in her school ate samp on a regular basis, even though the dish was alien to her.

Springs was and to a good degree still is home to a large collection of very old Hamptons families, where traditions like eating samp are still in use, hopefully.
Samp (original recipe - circa1643)
1 pound dry hominy (samp)
1 pound dry navy beans
3 medium smoked pig knuckles
1 small onion diced
Sort beans, removing any rotted and old beans.
Rinse thoroughly in a collander.
Soak the hominy and beans overnight in a large pot filled with water. (change water 1-2 times)
Drain after soaking, then using the same pot, add water 3 inches over the hominy and beans.
Add pig knuckles and onion.
Boil for about two hours or until hominy and beans are tender.
Add pepper and salt to taste. then serve.
Serves 8-10 people
Samp (modified recipe)
1 cup dry hominy (samp)
1 cup dry navy beans
5 - 6 strips extra crispy bacon
1-2 smoked pork sausages
1 onion diced
(follow same directions as above, serves 3-4 people)
omit pork and bacon to make it vegetarian, add more vegetables as preferred.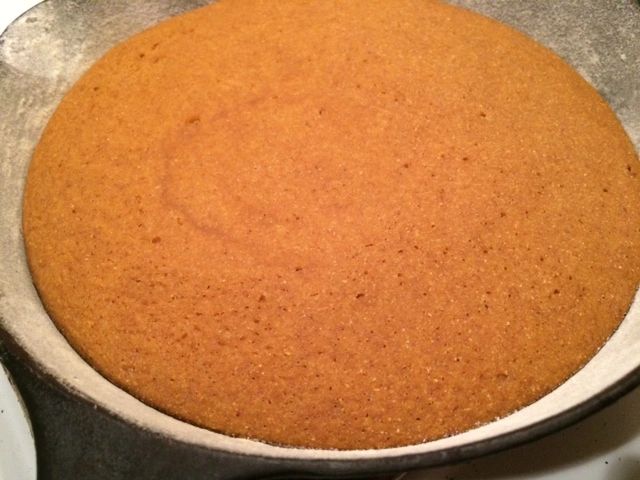 East Hampton Cornbread


Along with the Samp, I made a traditional corn bread from a recipe that dates back at least to the late 1880's, maybe even more. The recipe belongs to a Mrs. John D. Hodges. The recipe was last printed in the 1911 L.V.I.S. cookbook. It caught my eye because it was written in the form of a poem:
"Two cups Indian, one cup wheat: One cup sour milk, one cup sweet; One good egg that well you beat; Half cup molasses too; Half cup sugar add thereto; With one spoon butter new; Salt and soda each a spoon; Mix it up quickly and bake it soon. Then you'll have corn bread complete, Best of all corn bread you meet."

The poem goes on for quite a bit about catching a husband with your cornbread, but I'll spare you that tangent. Anyway, here is my translated recipe for Mrs. Hodges' cornbread. I found it very good, the buttermilk keeps it moist, while the cornmeal keeps it full of corn:
Mrs. John D. Hodges Corn Bread


2 cups cornmeal
1 cup whole wheat flour
1 cup buttermilk
1 cup regular milk
1 egg (beaten)
1 half cup molasses
1 half cup sugar
1 tablespoon butter or olive oil
1 teaspoon salt
1 teaspoon baking soda
Preheat oven to 400° f.
Grease and flour a 9" × 9" baking pan (or use a nonstick baking pan or a flexible silicone pan).
Mix together all dry ingrediants in one bowl, then add wet ingrediants, mix all together and pour into baking pan.
Bake 25-30 minutes or until a toothpick inserted into the center of the cornbread comes out clean.