This past year was a real gastronomic adventure for me. Part of that is due to the fact that I began reporting for
Northforker.com
which gave me access to many interesting events and happenings on the North Fork.
But the South Fork had its share of luscious listings. Here's 15 amazing things I ate and drank this year in no particular order:
The Sullivan burger -
Fellingham's
restaurant (Southampton) - along with the usual pub fare is their extensive burger menu named after sports greats like the DiMaggio burger and the Larry Bird burger. For me nothing beats the Sullivan burger. Named after John L. Sullivan, a 19th century American boxer, the Sullivan burger comes smothered in a white, creamy horseradish sauce. You can also get it topped with bacon. It is just amazingly delicious, my mouth waters just thinking of it.
Fried Chicken -
Salamander's
(Greenport) - It's been called the best fried chicken on the North Fork, maybe even the whole East End. I finally got a chance to try it in 2015 and it is good, very good. Crunchy, spicy, and meaty, it comes with french fries, purple cole slaw and a big chunk of corn bread. While there order their homemade lemonade for a truly great meal.
Chicken croquets - Red Maple restaurant (Shelter Island) - I love Buffalo chicken wings, I mean like crazy love them. So when I was asked to taste Red maple's new fall menu, I was excited to sample their chicken croquets appetizer. Baked chicken croquets covered in a buffalo wings glaze and served with a side of blue cheese and celery. A great new version of Buffalo wing night.

Dirty Chai Latte - North Fork Roasting Company (Southold) This new coffee shop is hip and fun and their dirty chai latte is creamy, strong, smoky and full of flavor. The 'dirty' ingrediant is espresso. If you like your coffee strong with plenty of flavor, this is a must try.
The BBC -
Cyril's Fishhouse
(Amagansett) - No trip to Montauk is complete without a stop at Cyril's, a seasonal bar/ restaurant on the north side of Montauk highway. You may as well get something to eat too because they pour very heavy. Their BBC (Bailey's Banana Colada) is legendary. Sweet, creamy and very strong, this drink is delish and for another dollar or two they will top it off with a shot of rum, yes!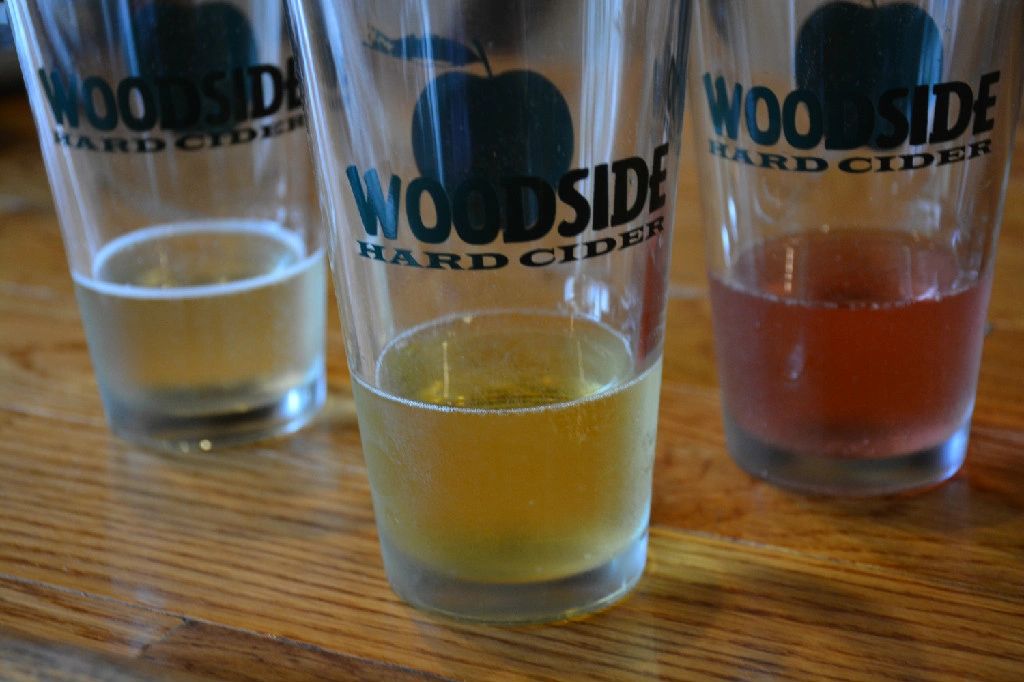 Hard apple cider - Woodside Orchards (Aquebogue) - I had my first taste of hard apple cider in 2015 and became an instant fan. Sweet, but not overly, Woodside's hard ciders taste like sweet and semi-sweet champagnes. Other flavors are sweeter, but the original and traditional are a great way to cool off with something to drink if you're not into wine or beer.
Portobello quesadillas - Provisions Organic Cafe (Sag Harbor) I was looking for a quick bite for lunch, but wasn't in the mood for a heavy or pricey meal. Provisions' portobello mushroom quesadillas are thick, cheesy and meaty-tasting, without the meat! The melted Monterey Jack cheese melds with the mushrooms and bean curd for a delicious treat. Along with three quesadillas you get a side of real guacamole and salsa. Filling, healthy and good!
Banh Mi -
Wednesday's Table
restaurant (Southold) This sandwich was a revelation and haunts my dreams and I'm not exaggerating. Made with roast pork shoulder, pickled radish, shredded carrots, cilantro and mayo on a hero. It is succulent, meaty, with crunchy veggies and so flavorful, your mouth will practically explode with happiness. That may sound insane, but this sandwich is on my must-stop list whenever I'm in Southold.
Smoked scallops - Commander Cody's restaurant (Shelter Island) - This place was recommended to me for their seafood, which includes fried clams and lobster rolls, but what was truly memorable was their smoked scallops. Salty and smoky, these scallops are so big you can't just pop them in your mouth, you have to eat them slowly, which is awsome, and the smoky flavor makes it impossible to stop at just one.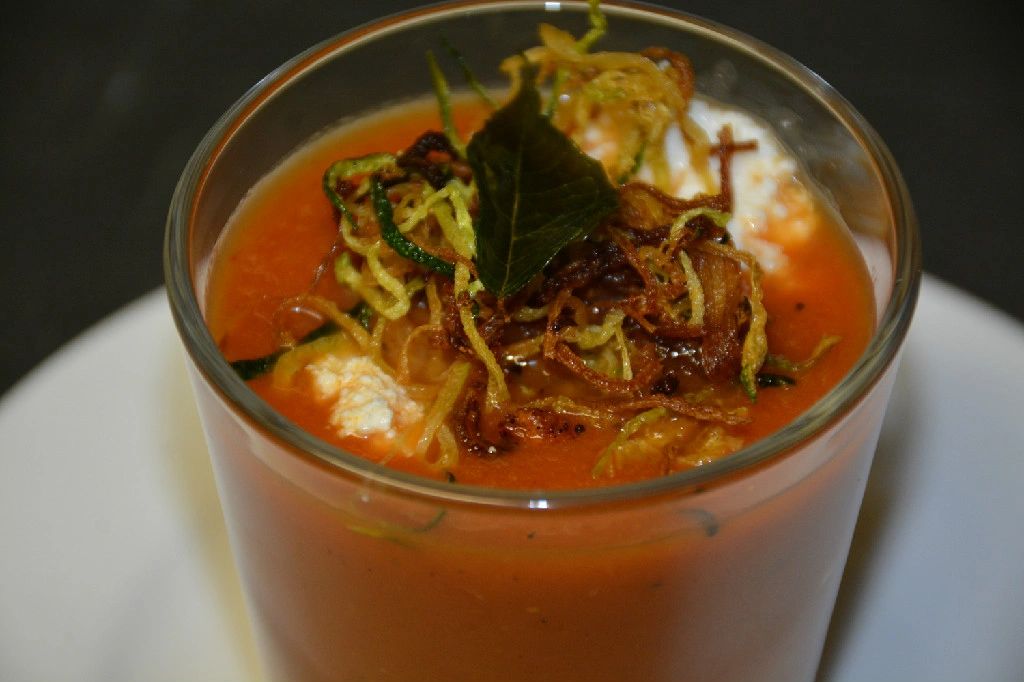 Chilled tomato soup -
Cuvee
restaurant (Greenport) - I attended an Indian-inspired dinner by owner Deborah Pittorino and Mumbai chef Rahul Akerkar. The first course a cold tomato soup was particularly memorable. Served with fenugreek, crispy zucchini and fresh goat cheese ricotta. The flavor was tangy, creamy and tomato-ey. I loved this soup because the ingrediants were so foreign, but so delicious that I could have gone home happy right there.
Honey nut ice cream - Patty's Berries & Bunches Farmstand (Mattituck) - Patty's Berries & Bunches ice cream flavors are made using whatever is growing seasonally on their farm. So far my absolute favorite flavor is their honey & nut ice cream made with local honey and chock full of gigantic chunks of walnuts. So good on a hot summer day!
Scallop beer -
Shelter Island Craft Brewery
(Shelter Island) - Shelter Island's Brewmaster Jim Hull masters in locally crafted, artisan brews, using local island ingrediants like apples and herbs. The most unusual beer I tasted was his scallop beer. Hull brewed the beer by searing freshly caught Peconic scallops and putting them in the beer to brew for several hours. The flavor was briney and sweet at the same time, that was really nice.
Corn ice cream custard - Harbes Farm (Mattituck) - Harbes Farm makes a sweet corn ice cream custard from their corn harvest. I tasted a sweet, creamy and buttery flavored ice cream. It was so good I savored the entire bowl until it was done. Cannot wait for it to come back for the fall harvest.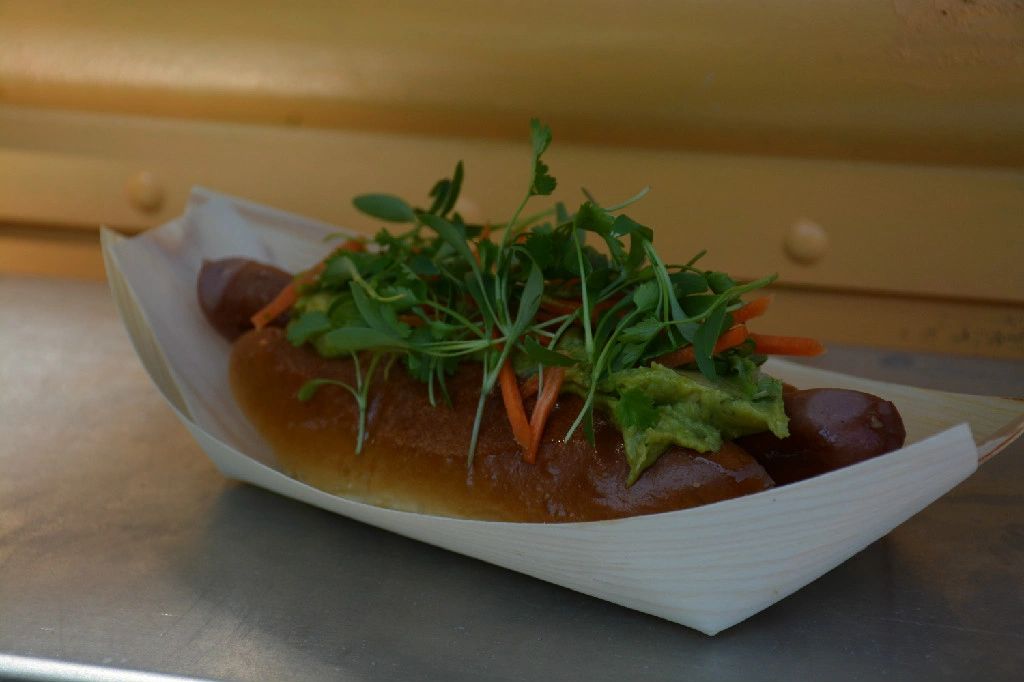 Guacamole Dog -
Vine Street Cafe
(Shelter Island) - I stumbled across Shelter Island's first foodtruck this summer and tried one of their artisanal all-beef hot dogs, smothered in real guacamole and served in handrolled brioche rolls. In one word yum! A crisp casing that snaps when you bite into it and the guacomole is seasoned with a spicier flavor then usual. Who knew guacomole went so well with hotdogs?
Peconic Swamp Thing -
Snowflake Ice Cream Shoppe
(Riverhead) What do you do when someone offers you something called Peconic Swamp Thing? You eat it of course. Chocolate ice cream with chocolate chips and a rasberry drizzle running throughout. This flavor is understandably one of their best-sellers. One scoop or two?