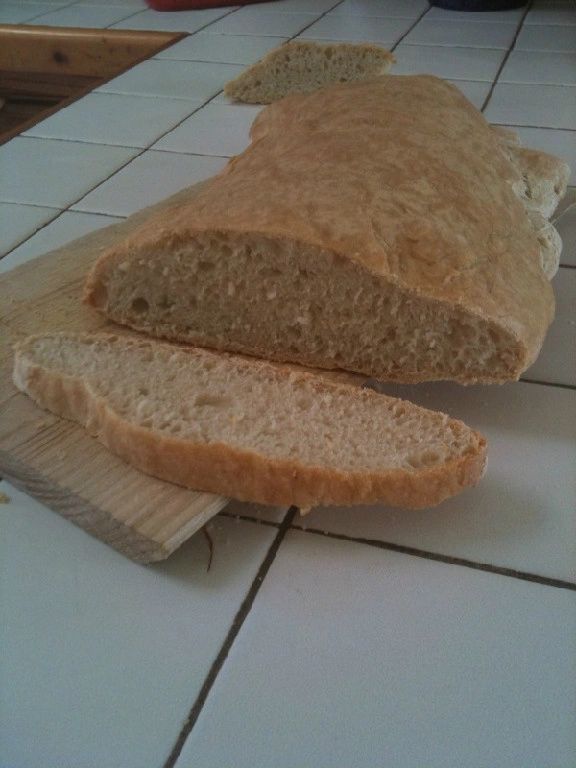 I have begun another project, baking bread. I know, that sounds way too domestic for me, but I decided to rise (pun intended) to the challenge and hope that my dough does as well.

It's amazing the number of things you can learn by watching YouTube. I've found dozens of videos on there for making all kinds of bread; sourdough, french, raisin, etc. I've chosen to make peasant bread. It's light and very good in the morning, toasted with a little butter and rasberry jam.


I followed the YouTube directions for making the dough, which are pretty basic; mix together 4 cups of flour, 1 teaspoon yeast, 1 & 1/3 teaspoons salt and 2 cups warm water.

Now comes the hardest part, waiting for the dough to rise.
Do you believe I have to wait 16 hours? That's right, the
dough will not be ready for baking for 16-18 hours. It's sitting in a covered bowl on my kitchen countertop right now.
I usually back-time (that's a tv reference) the process, so the bread will finish baking in time for breakfast.

I know there are ways to speed it up, but I'm kind of fascinated by the process. When I first started making it, I'd check under the hood constantly, when the bread was resting under the
cloth and the yeast was rising. Then the aroma when that thing came out of the oven! That's the payoff right there!


16 hours later, the dough now requires some kneading and shaping onto a baking sheet, then it sits covered by a kitchen towel for another two hours of rising.


Making this bread really is a lesson in patience! 18 hours later
I finally shove the dough into the oven at 425 degrees for 35 minutes. My husband comes in occasionally to check on it as well, commenting how good it smells, he can even smell it outside!


Finally at 11:30 in the morning, the bread is done. It comes
out of the oven, piping hot. The smell of fresh bread is amazing. I leave it out on the counter top to cool off and
before I know it, the hubby is hovering nearby with a knife.

I give him permission and he cuts through the crusty exterior, into the soft, doughy center. We spread a little butter on a slice and it tastes like heaven. I still can't believe how easy this recipe is, if only for the wait. Once you get it down, you can vary the recipe, tomorrow I'm going to add some whole wheat. What's next? Rosemary bread, garlic bread, sundried tomato bread, olive bread, the list goes on and on.


Baking to me is like a creative endeavor. Maybe it's the process of putting something unfinished into the oven, then the anticipation and eventual unveiling when you take it out. When you cook a meal, eating it is the satisfying conclusion, but for me baking means it not only has to taste good, it also needs to look good.

Bread is an important part of both upcoming holidays; Passover and Easter, and is often baked into symbolic shapes.
For Easter, breads often feature eggs, then there are English
Hot Cross Buns and for Passover, the braided Challah bread.
According to author Bernard Dupaigne, who wrote "The History of Bread";


"Easter celebrates the resurrection of Christ, but it also celebrates fertility and the season of renewal…On Holy Thursday to commemorate the Last Supper, when Christ
shared bread with his disciples, they prepare in absolute silence a brioche or egg bread called koulitch. On the Saturday night
of Resurrection, they walk in procession to church with a basket of eggs, holding a candle in one hand and the bread in the other."


Then off course when Egypt freed the Israelites, it is said that they left in such a hurry that they didn't wait for their dough to rise. That's why during Passover, no leavened bread is eaten. Matzo is the symbol for that holiday, which is also called "The Festival of Unleavened Bread".


With so many choices this holiday season, is it better to bake or buy? Luckily for the East End there are many tasty choices for buying fresh baked breads. I've sampled some great places, but know there are plenty that I haven't visited yet, so this is a very short list that I hope to add to as the year progresses:


Beach Bakery Cafe
112 Main Street, Westhampton, NY 11978
Warm, cozy and comfortable, Beach Bakery Cafe exhudes a friendly, family environment. Chock full of different breads, as well as cakes, cookies, pies, plus sandwiches and candy, it is a delight for the young and the young at heart.

The Blue Duck Bakery Cafe
30 Hampton Road, Southampton, NY 11968
www.blueduckbakerycafe.com

The Blue Duck is another place that sets your eyes and taste buds on overdrive when you walk in the door. Breads, pies, cakes, cupcakes, cookies and sandwiches abound. Try one of their blue duck cupcakes with the marshmallow tail. They also have stores in Southold and Riverhead.

Briermere Farm
4414 Sound Avenue, Riverhead, NY 11901
www.briermere.com

On the North Fork Briermere Farms dominates like a tsunami. Their pies are legendary and a 'must buy' for any holiday. But not to be forgotten are their delicious breads, cakes and muffins, as well as their jams and jellies, all of which are made on the
farm from scratch.


Tate's Bake Shop
43 North Sea Road, Southampton, NY 11968
www.tatesbakeshop.com

Tate's is like walking into a bakery wonderland. Breads, cakes, cupcakes, cookies and pies. The beautiful decor adds to the experience, making the sights and smells extra amazing.

So what's your favorite East End bakery?