Care to try a Long Island Potato Stout made with local mashed potatoes or how about a Pine Needle Pale Ale infused with actual pine needles? Those were just some of the locally brewed ales available at the 9th Annual Blue Point Cask Ales Festival held yesterday in Patchogue.
The once small local event has now turned into an opportunity for brewers around the country to showcase their latest brews. This year was no different with some 40 craft brewers showcasing more than 100 casks.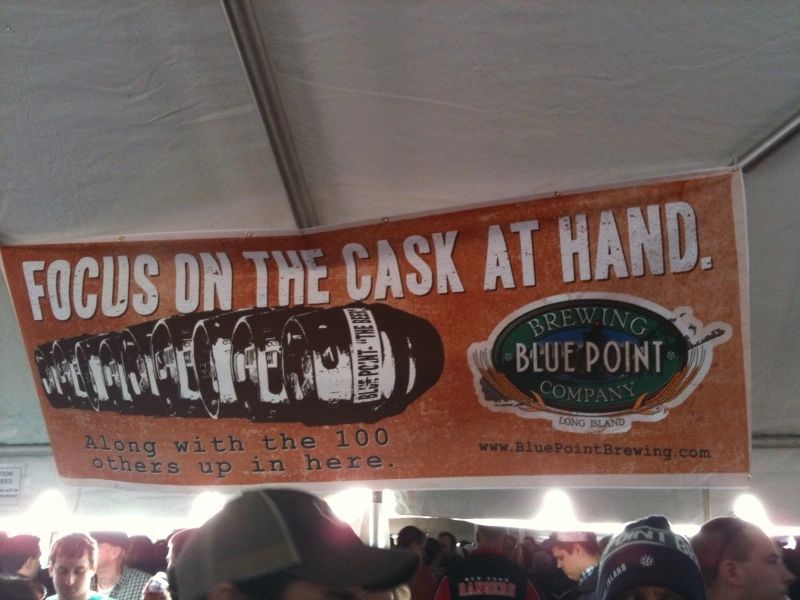 According to Blue Point Brewery, who hosts the annual event:

" a cask or real ale is essentially unfiltered, unpasteurized beer that is conditioned in a wooden or metal cask (sometimes called firkins), and then served from that same vessel, without the addition of nitrogen or carbon dioxide pressure. In a sealed firkin beer undergoes a special conditioning process as the yeast produces subtle levels of carbonation along with unique flavor and aroma compounds before settling to the bottom of the cask.
When properly served, a good ale will be transparently clear and cool, but not cold (50-57 degrees) with subtle carbonation. Cask conditioned real ale is the traditional way to drink hearty ales and is about the freshest beer you can find since it's meant to be poured just a few days after it enters the firkin."
At the hefty fee of $50 dollars admission, Saturday's event was sold out in advance, with several hundred in attendance. Attendees received a half-pint English-style commemorative glass and six tasting tickets, as well as a ticket for a free half-gallon growler, to be redeemed at their next visit to Blue Point Brewery. I don't know how the tasting tickets were exchanged, because I never received any and there were no ticket requests anytime I ponied up to the bar during the day and sampled as many brews as I wanted.
Local participating brewers included Patchogue's Brick House Brewery, Southampton's Publick House and Greenport's Harbor Brewery, but brewers came from as far and wide as San Diego's Green Flash brewery and Flying Dog Ales from Maryland.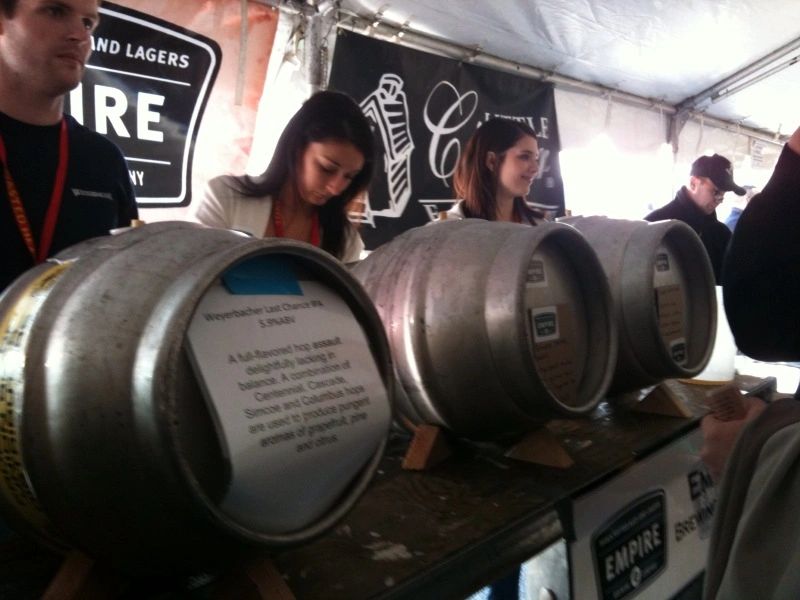 For the pure joy of drinking beer with friends or making new ones, the experience was great. Set in a large parking lot in Patchogue, attendees enter on foot, wearing comfortable clothing for a full day of drinking, food and music. Live bands performed throughout the day, as drinkers sampled the beers underneath a gigantic tent that stretches over a block. And don't worry about all that beer going to your head, there are plenty of food trucks selling everything from soft pretzels to hot dogs to giant turkey drumsticks!
The sun, music and crowd made for an enjoyable day. I didn't see anyone out of control or falling down drunk, despite a high security presence. At $50 a head, this is not a "let's get drunk" crowd. While it was a relatively young crowd, the median age being somewhere in the early to mid 30's, there were people ranging in age from 20's upwards to 60's.


Let me get one thing perfectly clear right away, I am not a beer expert nor a beer connoisseur. Please do not in any way expect a professional beer review from this blog, I am purely blogging about my experience as a neophyte beer drinker. I went to this event with no expectations, no reservations and absolutely no beer favorites.
Being a relatively light drinker I was a bit concerned that I'd be out before the count drinking so much beer, but I paced myself, telling the brewers to pour light. I kept my tastings to a few sips of each sample, then chucked the rest, just like a wine tasting. While there were no spittoons provided, as most drinkers seemed intent of finishing their samples, there was a plethora of buckets discreetly set up beneath each beer station, where you could toss a sample if you didn't like it.


Now to the brewskies themselves, in just one word, Wow! Let me tell you again, double wow! When it comes to pure choices and variety, this festival exceeds. From pale ales to strong stouts, there had to be something for everybody here.

Some of my favorites included, but were not limited to; For light, crisp, sharp ales, I especially liked Green Flash's Trippel Ale, as well as Blue Point's Toasted Lager and Double Blond.

For stouts, I enjoyed Blue Point's Oatmeal Stout, which had a very strong coffee flavor and hints of molasses. Another winner was Tully's Irish Red Toasty Caramel Malt with a rich, toasty flavor.
For more unusual flavors, there's Two Road's Road 2 Ruin Worker's Comp Saison, which was slightly "Hoppy", with subtle hints of cinnamon.

According to Wikipedia; a "Saison is a broadly defined pale ale that in modern versions is generally around 7% highly carbonated, fruity and spicy. As a beer style it originated from beers brewed during the cooler months in Wallonia, the French-speaking region of Belgium and then stored for drinking during the summer months."
Another tasty ale was Great South Bay's Blood Orange Pale Ale, a light, crisp ale with actual traces of orange. Then for pure dramatic taste, I loved Blue Point's Toxic Sludge with hints of Chocolate and Passionfruit, what a combination.! Maybe not your typical beer, but imagine what that would taste like drizzled over vanilla ice cream? It definitely is an acquired taste and much more of a dessert drink, than basic beverage.
For sweeter beers, I enjoyed Brick House Brewery's Beowulf IPA, which is made with honey and offers a very sweet flavor, almost like mead.
As for Blue Point's Pine Needle Pale Ale? It has a nice golden color with a smooth, nutty flavor, the pine needle taste is so subtle, as in hardly noticeable. But when it came to Blind Bat Brewery's Long Island Potato Stout, I tried but just could not wrap my mouth around that bitter flavor, but that's just me.