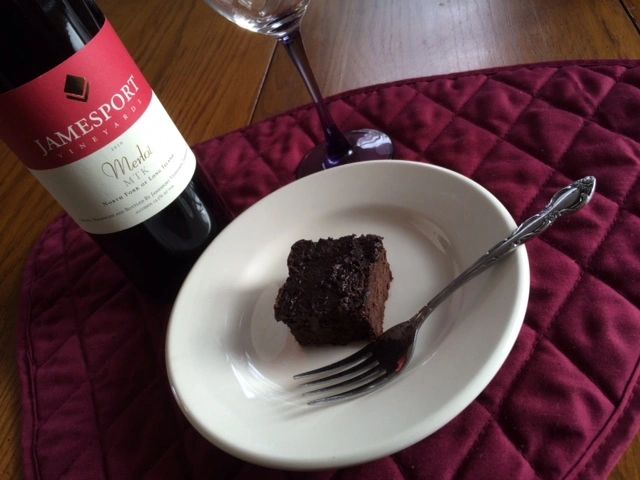 How do I love thee?

When it comes to Valentine's Day, I've always been more into cooking or baking something amazing for my sweetheart, than going out and competing for the perfect night out. Not that there's anything wrong with that.

What makes you think of Valentine's Day? Wine, chocolate? How about a dish that combines the two. That's right, wine and chocolate together. It's not so farfetched. Here on the North Fork many wineries host wine and chocolate tastings this time of year.

Recently I saw a recipe for Red Wine Fudge Brownies online and had to try it. The recipe comes courtesy of the site Buttermeupbrooklyn.com, but I decided to kick it up a notch.

Since I am surrounded by some of the most amazing food artisans and vineyards on Long Island, I decided to get locally sourced products.

My first stop was the North Fork Chocolate Company. The North Fork has been blessed with talented chocolatier, Chef Steve Amaral, who creates some of the sweetest and most delicious confections. He personally hand mixes several chocolates in the kitchen, so his creations are one of a kind. This week they opened their very first shop in Aquebogue, after showcasing their sweets at farmers markets and special events.

NFCC provided me with 6 ounces of the loveliest Belgian dark chocolate, perfect for baking. When I learned that they use red wine in some of their chocolates, I asked them to recommend a winery.

NFCC uses Jamesport Vineyard's Merlot in some of their sweets, so I swung by the winery and picked up a few bottles for myself.

Jamesport Vineyards is one of the North Fork's oldest wineries and has been family-owned since its inception. Their wines have won numerous awards. Their Merlot MTK is strong and bold, perfect for baking.

Once home with my ingredients, I set to work. The recipe may look intimidating at first, but I actually found it quite easy.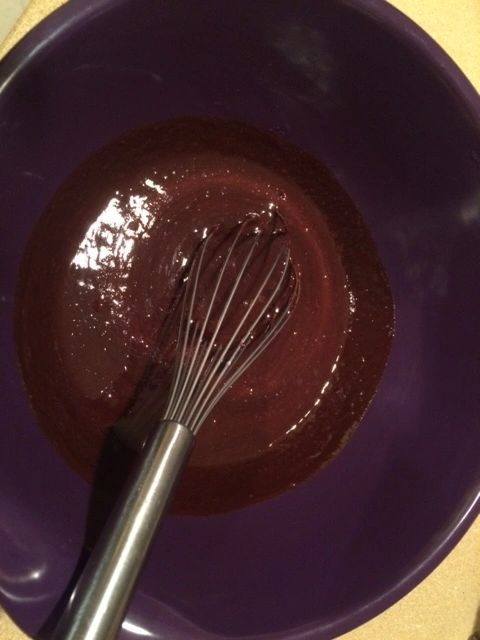 Melting the chocolate and butter together proved easier than expected. I simply placed both in a metal bowl that bobbed in the boiling water of a larger metal pot. No need for a double boiler if you don't have one. I did not add the chocolate chips, as the dish is already so rich without them.

The finished brownies are less like fudge, more like a velvety chocolate brownie that melts in your mouth.

The glaze creates a melted, powdery encasing that ups the flavor. It's neither dry or gooey and a little goes a long way. The chocolate flavor is strong and dynamic, with the wine adding to the depth. There is almost a tang to it the way cream cheese adds that little kick to cheese cake or red velvet cake.

Velvety and deep, those are the perfect descriptions I'd give to this dessert. Make it for your sweetheart and then feed it to them with a glass of Jamesport Vineyard's Merlot. It's sublime.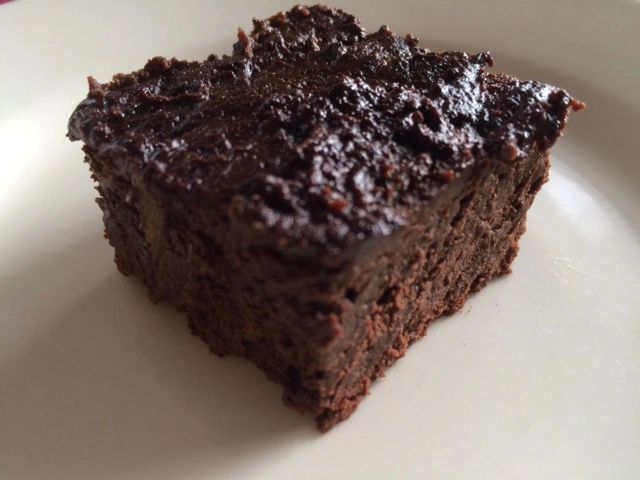 For the brownies:


4 ounces (120 grams) semisweet chocolate, chopped
1/2 cup (113 grams) butter, cut into pieces
1/4 cup (60 ml) red wine
2 eggs
1/2 cup (100 grams) brown sugar
1/4 cup (53 grams) sugar
1/2 teaspoon (2.5 ml) vanilla
1/2 cup (62 grams) flour
1/4 cup (25 grams) unsweetened cocoa powder
1/2 teaspoon (2 grams) salt
1/2 cup chocolate chips (optional)


For the glaze:


2 ounces (60 grams) semisweet chocolate, chopped
1 tablespoon (21 grams) butter
2 tablespoons (30 ml) red wine
pinch of salt


Preheat the oven to 350.


Butter an 8×8 pan and line with two sheets parchment paper, then butter the parchment. Set aside.


Melt the chocolate and butter together in a heatproof bowl set over a saucepan of barely simmering water, stirring occasionally until melted and smooth.


In a large bowl whisk together the eggs, sugars and vanilla.

Whisk in the chocolate mixture and then the wine. Add the flour, cocoa powder and salt and stir until the batter is smooth and has thickened slightly. Fold in the chocolate chips, if using.

Pour into the prepared pan and bake for 15-20 minutes or until a tester comes out mostly clean with just a few crumbs attached.

You may need to bake the brownies for a few minutes more, but set your timer for 15 minutes and then hang out in your kitchen for the last few minutes of baking time just to make sure they don't over bake. An underbaked brownie is better than an overbaked one.

While the brownies are baking make the glaze. Melt the chocolate in a heatproof bowl set over simmering water until melted. Add the butter, wine and salt and whisk until smooth.

Pour the glaze over the warm brownies and spread it to the corners so the top is evenly coated.

Cool completely and cut into squares.