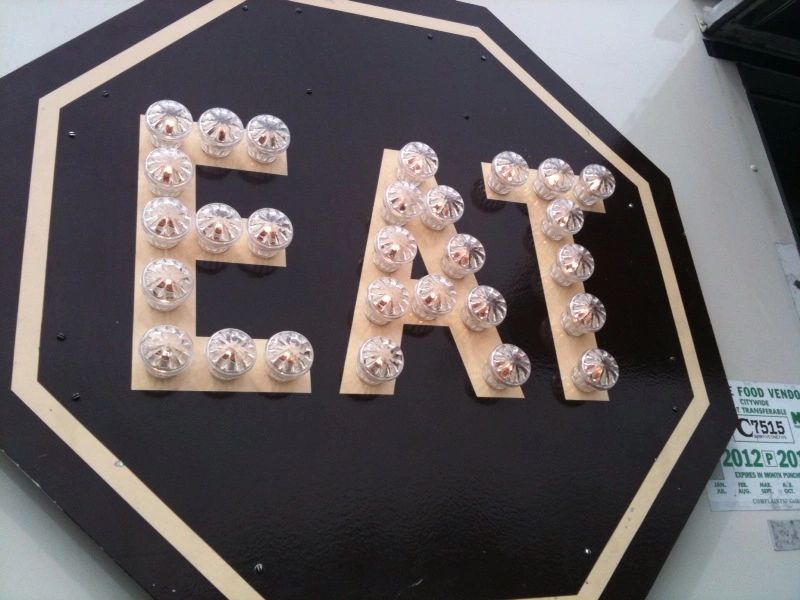 It was billed as the first Food Truck Derby at Tanger Outlets. A traveling troup of food trucks serving everything from hibachi shrimp to local fish tacos to Italian pastries.

My girlfriend and I showed up that Saturday afternoon with our appetites in tow and our money in hand, looking forward to sampling some foodie treats.
It's been an unusually blustery April, so we braved the windy cold, as did many others, standing in long lines for what turned out to be pretty average fare.
Our first stop was at the Silver Spoon truck. I was looking forward to trying their fish tacos with asian slaw. It sounded exotic and tasty, as I stood huddled against the cold. My girl friend went more traditional, opting for one of their hot dogs topped with sauerkraut. The two dishes cost about $8.00.



Fish Taco with Asian Slaw


As I appraised my fish taco, I realized that it was basically a piece of fried frozen fish, not fresh, as I had hoped. It's shape resembling a perfectly fried candy bar.

Biting into it, my second realization was that it had not been fried very recently either. So while the asian slaw topping was tasty, the entire experience had the flavor-packed impact of eating a fish stick covered with cole slaw. My friend's hot dog was semi-warm at best, oh well.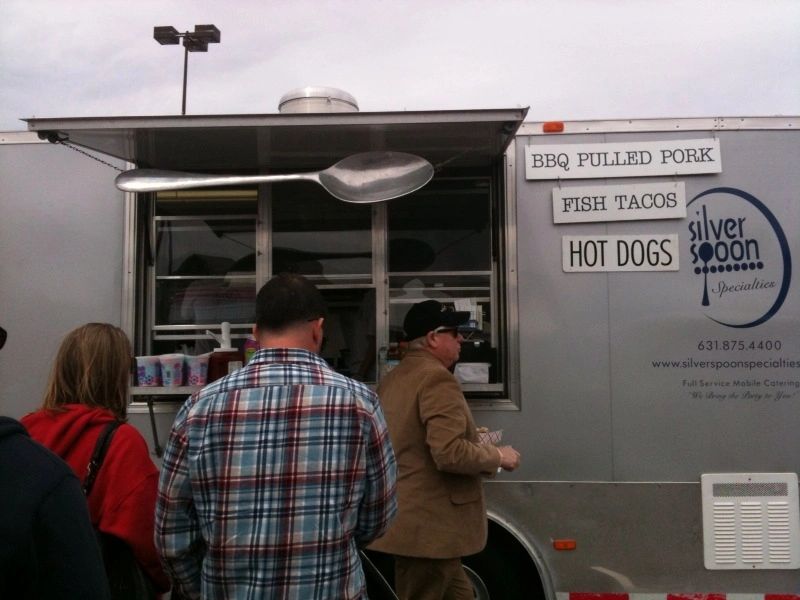 My second attempt to "experience" the food truck fad was to stand in a very long line for what felt like half an hour for a grilled cheese sandwich! That's right, grilled cheese.

The Morris Grilled Cheese truck had the longest line at Saturday's event, so I figured they must be good, since they seemed to have a following. The wait was long and cold and the longer the wait, the more items got scratched off their menu list. Would anything be left when I got up to the front of the line?

When it was finally my turn, I was cold, hungry and very much looking forward to some warm, grilled cheese. Instead of playing it safe, I decided to order unusual, figuring I'd get a chance to sample one of the truck's specialties. I went with their grilled feta cheese sandwich with hard-boiled egg and pickled fennel on sourdough bread for $8.00. Guess what? I should have gone traditional.
The guys in the truck worked like a well oiled machine, taking the orders, making change, cooking the sandwiches and handing them out to cold, hungry customers. When I got my sandwich I joined my friend at one of the large picnic tables provided for the event.

She had very kindly bought me a cup of Hamptons Coffee to warm me up. The warm liquid felt good going down, but the weak flavor made me wish for something stronger.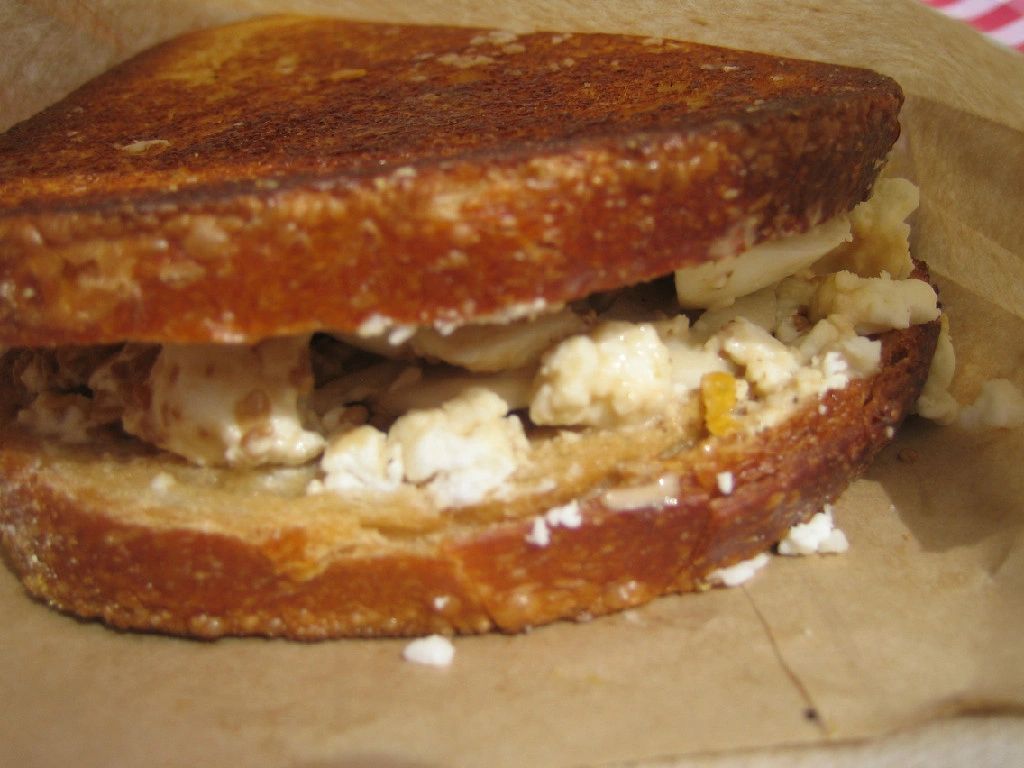 Grilled Feta Cheese with Egg & Pickled Fennel


The feta, egg & fennel sandwich was flavorful, but the pickled fennel didn't quite jibe with the feta or egg. Also the combination of not quite melted feta cheese, with cold hard-boiled egg and cold pickled fennel created a kind of congealed consistency. Pieces of feta, egg and fennel kept falling out of the sandwich, because they had not cooked the sandwich long enough for the ingredients to melt together. While the flavor combination wasn't that bad, it wasn't that good either. This really needed to cook longer for the ingredients to meld together. Unfortunately the food truck workers were too busy slamming out their orders to actually pay attention to the quality of their sandwiches. I ate about half of it because I was hungry, then threw the rest away.

I'm sorry but if you're going to come out here in a truck to offer something different, please by all means come, but make sure it's well prepared and cooked. Coming from NYC, I grew up eating meals prepared in food carts and trucks, it can be done very well or very badly. Today's foodie trucks need to understand they are not reinventing the wheel here, but if they want to move it forward they have to offer something more and better than what a customer can get at a fast food joint. I'm still open to food trucks, so here's looking forward to the second Food Truck Derby.