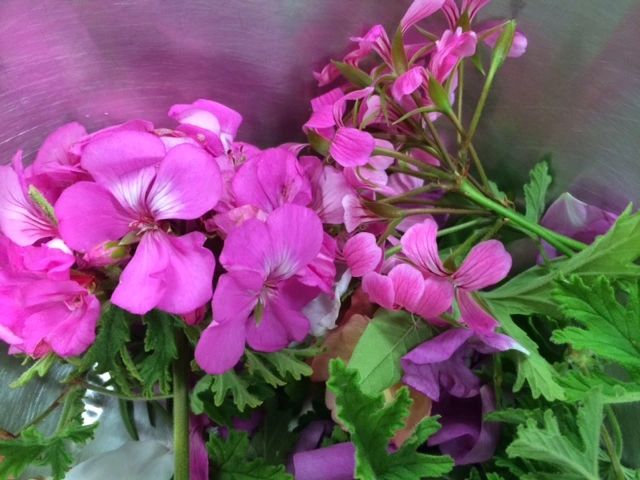 Edible Geraniums
Did you know that you can eat Begonias, Carnations and even Daisies?

I've delved a little into the edible flowers realm by sampling the flowers in my garden from the vegetables that go to seed, like broccoli and chinese cabbage flowers, which are delicious.
But I was curious to expand my repertoire, so I signed up for the "Edible Flowers and Flavored Sugars" class offered by Hallockville Museum Farm and Taste of the North Fork.

Hallockville Museum Farm is a non-profit organization on the North Fork who's aim is to re-connect and educate people about Long Island's agricultural heritage. They do this through educational workshops, museum tours, as well as special events like fairs and festivals throughout the year.

Taste of the North Fork is a professional kitchen that produces a local product line showcasing foods from the North Fork. Products include pestos, salad dressings, jams, jellies, teas and spice mixes. Jeri Woodhouse, the founder of TOTNF, is a certified organic farmer and member of the New York Farm Bureau.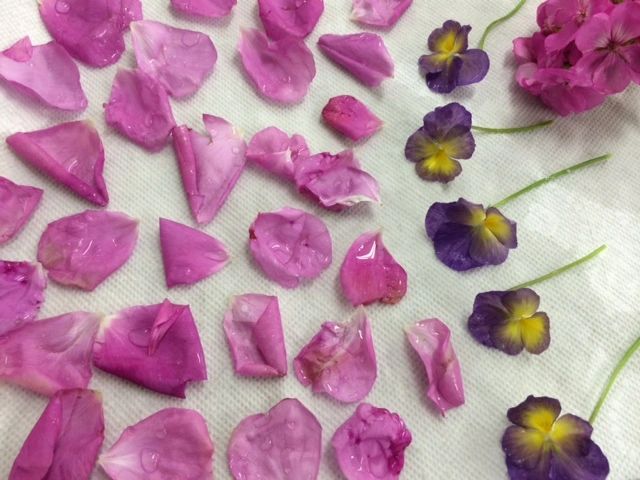 Edible rose petals and pansies

Turns out there are at least 135 flowers that are considered edible, some just the petals, others the entire flower. Some may already be in your garden, but before you head out there with a dinner plate, it's important to know that not all flowers are edible. Some flowers can be downright poisonous, so do some research and learn what's safe and what's not.

It also goes without saying that picking flowers off the side of the road to eat is not a good idea and neither are flowers from your local florist. If you're not sure if a flower was grown with or without pesticides , stay away and only use flowers organically grown. That is our first lesson, before we make anything.

TOTNF founder Jeri Woodhouse also teaches the class. Cooking with Jeri is like cooking with your mom when you were a kid. Patient, matter-of-act and no-nonsense, Jeri guides us through the various steps of flower and herb preparation.

Before making anything we first clean and prepare our flowers. This is done by gently rinsing the blooms, first in a bucket of mild salt water, then rinsing them in plain tap water, before finally laying them out to dry on a cookie sheet covered with paper towels.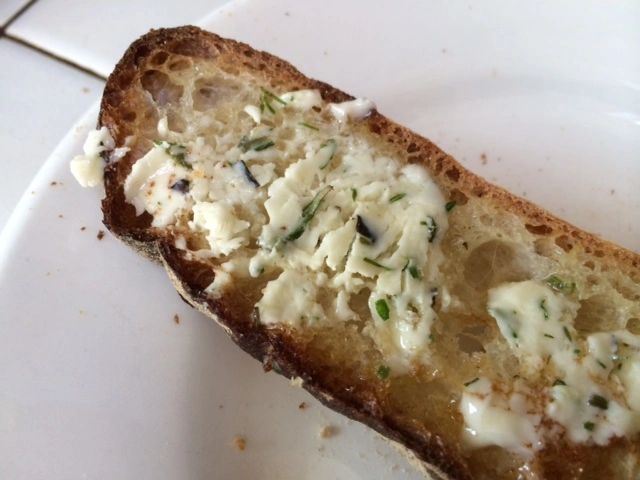 Herbed Butter

The flowers we are working with today include pansies, roses and geraniums. When the flowers are dry they are ready.

The first dish we make is Edible Flower Butter or Herbed Butter (depending on the ingredients). It's amazing how easy the process is. We each choose which flowers we want to work with or herbs from Jeri's garden.

I decide to go with herbs, picking a handful of rosemary, dill, chives and basil. The simple process involves throwing my herbs into the food processor with a stick of soft butter, a large pinch of salt, then hitting the on switch. Voila! I've got herbed butter.

From there we learn how to adhere flowers onto cheese as a decorative accent. Beginning with a concoction that involves heating clear gelatin with white wine, it creates a clear, edible lacquer that you paint onto foods. This creates a sticky surface you can now stick flowers onto like decals.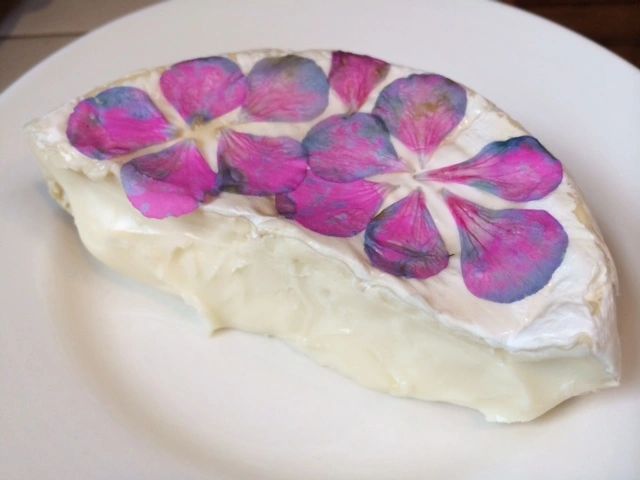 Geranium garnished Brie Cheese

Using the top of a wheel of brie cheese as our canvas, we paint on the clear base. While the base is still wet, we stick and arrange small flowers and petals onto the cheese top.

Another easy method of decorative and edible flower accenting is creating a flowered cheese roll. First we chop up a handful of herbs like rosemary and dill with flowers like roses and geraniums together, spread them out on a cutting board, then roll a log of plain goat cheese thru it. The effect is not only lovely, but tasty as well. Jeri produces a box of crackers and before you know it that entire cheese roll is gone.

We also learn how to make individual sugar candied flowers that can be used as decorative food art. This is much more intricate, painstaking and time consuming then the class has time for. It's also a skill that takes time and practice. My sugared flowers turn into crinkly, crusty things in a bowl.

At the end of the class we've got an armful of goodies to take home, as well as the knowledge that just out in the garden sit some delicious new food choices to explore.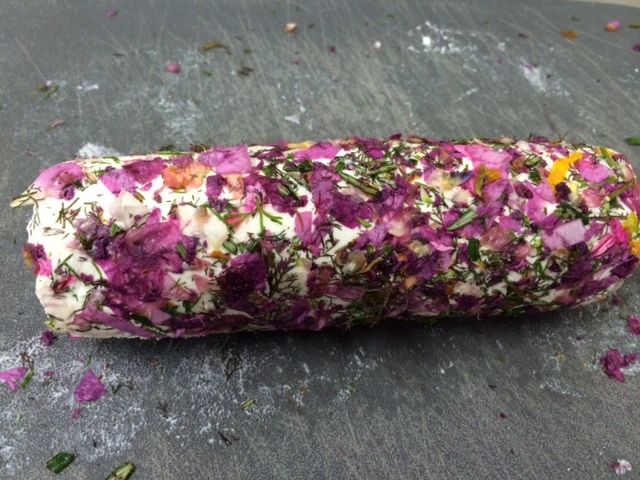 Rose & Herb Coated Goat Cheese Log