I live and work in the land of farm stands. On the North Fork of Long Island right now pretty much every farm has a stand where they sell their produce and goods.
We all have our favorites, some of mine include
Schmitt's
for their honey, horse radish and fresh baked pies.
Krupski Farms
has some gorgeous tomatoes right now and everybody is selling corn.
Then there are the smaller ones, not professional farms, just regular folk who have more then they need growing in their gardens and have set up a small stand or table in their front yard or driveway.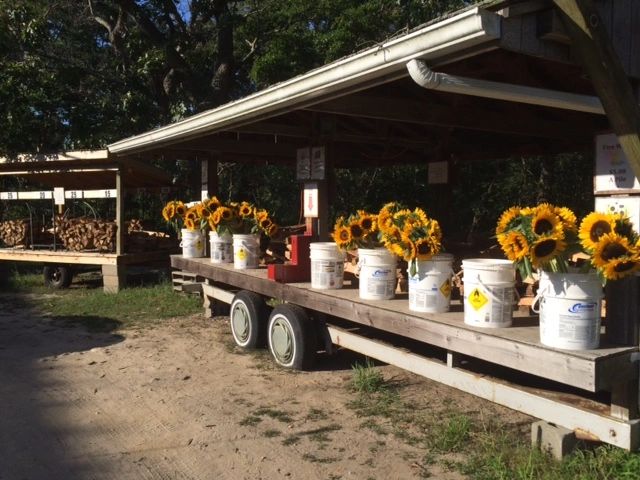 I especially like to stop at those, because they are from a garden probably very much like mine. They don't have the time or ability to supervise a farm stand, so it's run on honor system. People actually leave their goods un-supervised out in public and expect others to be honest enough to take what they want and leave money in a locked metal or wooden box.
I was amazed when I first saw this a few years ago. Stuff left out literally for the taking, if you so wished to take it, but with enough trust in humanity that theft does not happen. I couldn't believe it at first and would look around for the candid camera that had to be hiding somewhere as I chose my produce and left some money. But nothing happened and of course I left the right amount of cash.

My latest favorite small farm stand is in Aquebogue on Meetinghouse Creek Road, across from the Lighthouse Marina. It's a quiet and unassuming stand that is actually a pair of parked trailers. On them sit packages of wood and fresh sunflowers for sale.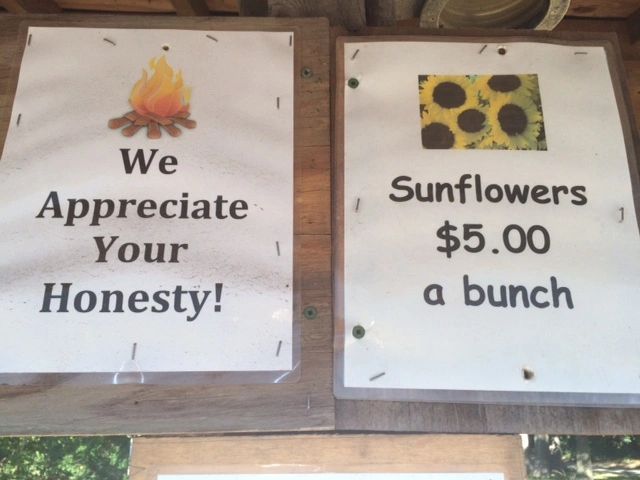 But oh, those sunflowers! They are gigantic, causing me to nearly run off the road when I caught site of them. I immediately stopped to inspect the display. One stand is all wood, nicely packaged and ready to go. The sunflowers have their own stand as well and are nicely wrapped up 5 or 6 flowers in a bouquet and - get this-only $5 a bunch!
Bees buzz and hover around the freshly cut flowers as I examine each bouquet, before making my choice. An occasional car passes by and I make an exaggerated showing of putting the cash into the small metal cashbox, so as to make sure no one would suspect me of stealing the flowers.
The house that it belongs to sits further back down the driveway. They can probably see me stop and make my purchase, but I am left alone to enjoy the flowers and the bees, which have to be shaken off the blooms, otherwise they end up going home with me in the car. I love this little stand and try to stop by at least once a week during this time of year to replenesh my sunflower supply.