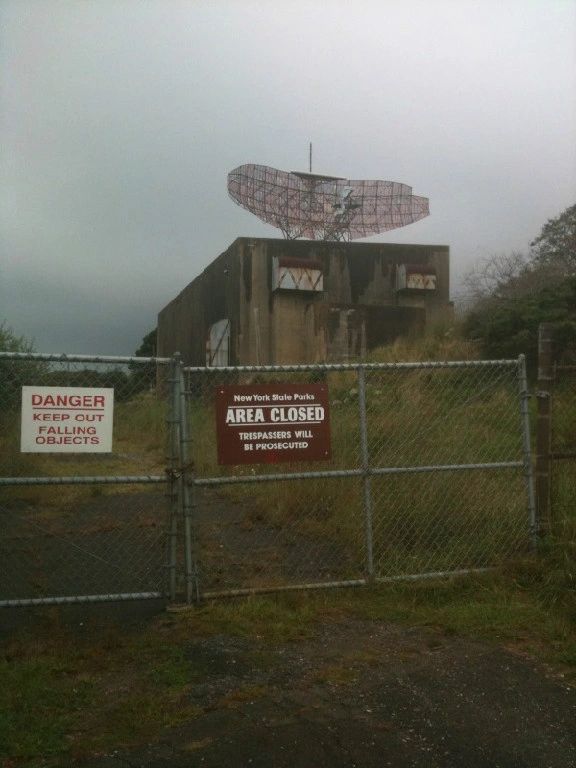 As we approach the cliffs, up above us, the enormous radar tower emerges from the fog. Perched upon the edge of the steep bluffs, it looks like a giant praying mantis peering out towards the Atlantic Ocean. My next thought is, "How do we get up there?"

A walk along the beach sounded like a good idea at the time, but the multitude of large, heavy rocks strewn across the sand on Montauk Point Beach, makes easy walking a pipe dream.

My husband and I like to pay at least one visit to Montauk by ourselves during the year. Usually we're dragging friends and relatives with us during the summer months. Those visits always involve a stop at Cyril's Fish House in Amagansett for lunch, then dinner in Montauk.

But in the fall it's just us. The weather is still gorgeous, plus it's quieter and less crowded, so that's when we make our trip.

After visiting Montauk Point Lighthouse, we are now walking west along the beach, as large waves crash on the shore to my left. I step carefully from rock to rock, hoping my foot will make contact with soft sand at some point. There are too many rocks to walk amongst, so I've resigned myself to jumping from rock to rock as my mode of travel. More then a few times I've nearly twisted my ankle on a particularly shaky rock.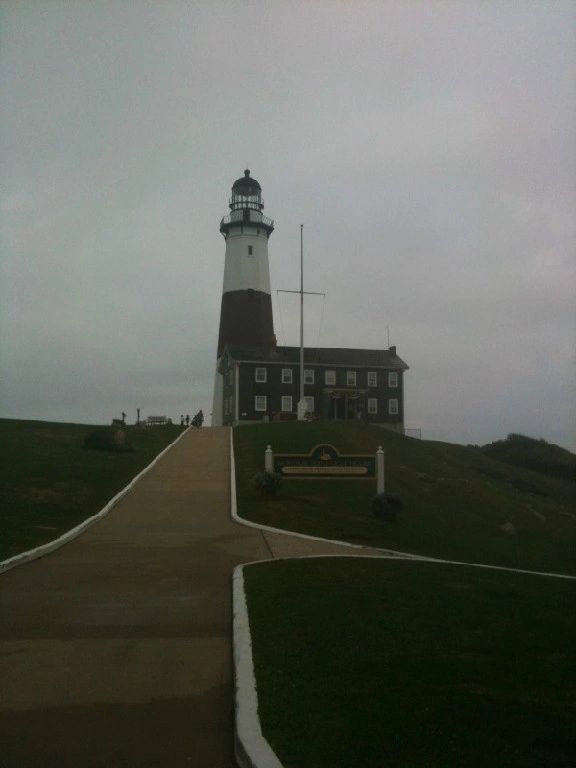 Montauk Point Beach resembles a traditional rocky New England beach, more so than the sandy, Cape Cod-like beaches of the Hamptons that lay to the west of us now.

We've left the lighthouse far behind now, as we follow the rocky coastline. 80-foot high cliffs tower above us to the right, as the wind lashes my hair across my face. Even though it's a warm day, the air is cool and damp and it's getting foggy.

After an hour of walking on rocks, it begins to feel like we may never get off this beach. There are few exits, as the cliffs are too high to scale. We're not exactly looking for an exit, more like a portal from an 18th century lighthouse to a World War Two military installation. We're searching for what's left of Camp Hero.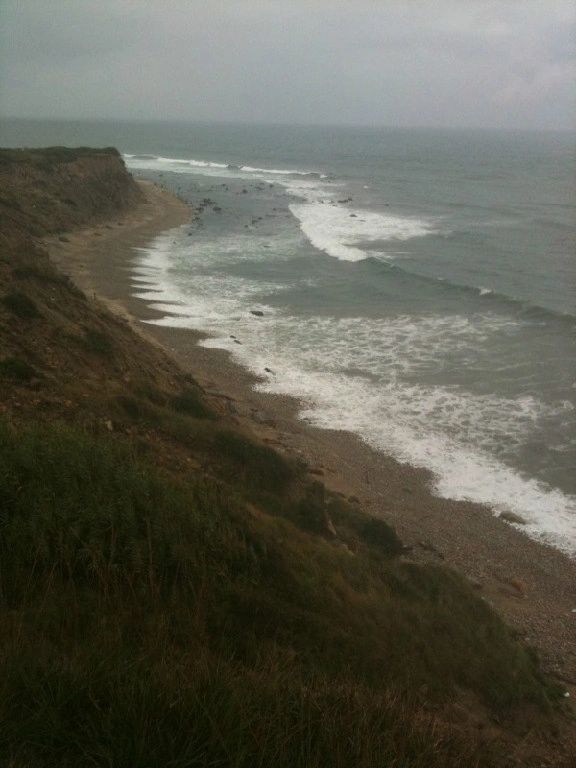 Then it appears from out of the fog, the giant radar antenna tower sitting on the cliffside, a quiet sentinel, surrounded by woodland.

Eventually we find a steep path that leads us off the beach and amongst the tangled trees and yes, more rocks, up the side of a hill, till we reach the encampment.

Camp Hero State Park, located at Montauk Point on the easternmost tip of Long Island is about a three-hour drive from New York City. It encompasses 415 acres of woodland, freshwater wetlands, riding paths and rocky beachfront, but its most unusual attraction is the former military installation, now registered as a National Historic Site.

Montauk has always been an important site militarily, ever since the Battle of Long Island in 1776. Part of the reason for commissioning the Montauk Lighthouse in 1792 was to keep an eye out for British ships headed for New York or Boston and is considered the first military installation on Montauk.

Due to its remoteness and location between two major cities, the Army stationed reconnaissance dirigibles and troops out there during World War One.

Fort Hero was established in 1929 south of the lighthouse. It was named after Major General Andrew Hero Jr. who was the Army's Chief of Coast Artillery between 1926 to 1930. He died in 1942. Locals just called it "Camp Hero" and the name stuck.

During World War Two Fort Hero was upgraded. The Navy also acquired land in the area, including Fort Pond and Montauk Manor. Docks, hangars, barracks were built, as well as a torpedo testing facility.

Standing up on the bluff now, overlooking the rocky beach below, its hard to imagine Montauk being the target of any invasion. White caps bounce back and forth out on the huge expanse of blue water, as seagulls fly overhead. But the view is amazing, so it is easy to understand why it was such a strategic location.

During World War Two the coastal watch station was actually disguised as a fishing village. Unfortunately none of that has survived, all that remains now are the gigantic bunkers built into the hills of the bluffs. A concrete walkway leads past the now sealed concrete doors to each leviathon.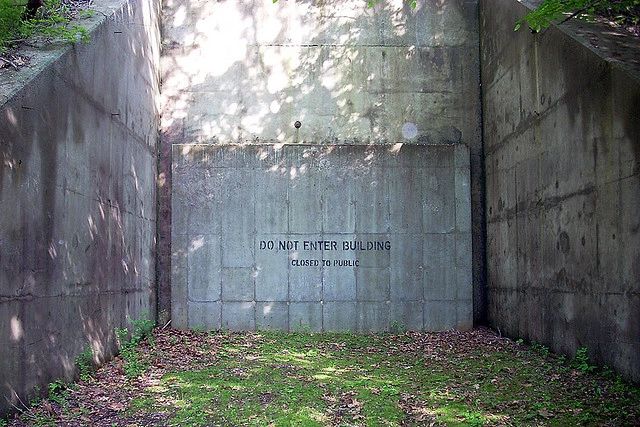 In 1958 a SAGE (Semi Automatic Ground Environment) radar system was installed and the site was merged with the national air defense network. SAGE included a huge AN/FPS-35 radar antenna. 126-feet long and 38-feet tall, weighing 40 tons, it was able to detect airborne objects at distances over 200 miles away. The SAGE system was said to be so powerful that it disrupted local TV and radio broadcasts.

Quiet and unused for decades, there's an eerie silence as we walk past the giant concrete bunkers. They're like forgotten temples, quickly becoming overgrown by the surrounding forest.

There are rumours, allegations and books written about Camp Hero being the scene of secret government experiments to develop psychological warfare techniques, including time travel. Those rumours only add to the eerie atmosphere. The stillness of the place is almost disquieting, as there's nothing to hear but birds and the distant roar of waves.

Along with its military history, Camp Hero is also a beautiful natural preserve. Undeveloped after the war, it wasn't til the 1980s, when efforts to build a golf course on the site were squashed by environmentalists, that people began to take an interest in the future of Camp Hero and its unusual setting.

The high bluffs protect the plant life from the ocean's salt and wind and the maritime forest teems with large specimens of Scarlet Oak, Yellow Birch, Black Tupelo and various Hickories. In 1984 the site was donated to the National Park Service, which handed it over to the New York State Department of Parks.

Just opened to the public in 2002, portions of Camp Hero remain closed to this day. There are plans in the works to build a museum and interpretive center that will focus on the camp's World War Two and Cold War history.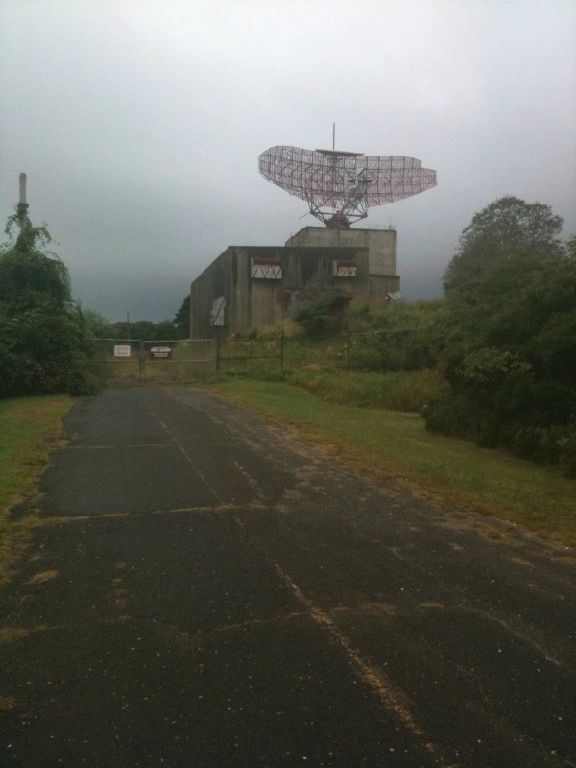 Decommissioned in the 1980's, the giant AN/FPS-35 radar antenna, the only one still in existence, is the park's sole reminder of its Cold War era past. Even though it sits unused behind a chain link fence, it now serves as a landmark for boaters who requested it not be torn down, prefering it to the Montauk Point Light.

To me the abandoned military base is kind of spooky. A lot of buildings still sit empty and boarded up. Not many people are here today, so we pretty much have the park to ourselves, which adds to the eerie feeling, as if everyone just got up and left. Every now and then we'll come upon a deer grazing, who seems even more surprised to see us wandering about.

At this point we start getting hungry and remember that we're more then an hour away from home, so we leave the park and pile into the car for the long ride back. The quiet desolation fades as we hit the highway and cars zoom past us. It's almost as if we've left one time and re-entered another.

Goodbye to Montauk's military mysteries and hello to Montauk's sunlight and salty breeze.