I've been collecting mullein in my spare time.

In the heat of the day, I'll slather on sunscreen, put on my sunhat, then Lexie and I will wander out into the back country. The back country is actually a large field behind our property where she and I wander. I pick wildflowers, take pictures, while Lexie scares up the occasional deer, rabbit or wild turkey. It's a great place to explore, examine wild plants and just stroll.
If you're wondering what mullein is, it's that weird cactus-looking plant you've probably seen growing in empty fields or along the side of the road. They're all over the East End. Some are only a few inches tall, while others can grow taller than the average person, reaching as high as six-plus feet tall.



This mullein plant is nearly seven feet tall


While mullein is considered a weed in the U.S., it is also highly regarded by folk practitioners as a treatment for a variety of ailments. Little yellow blossoms grow out of the thick stalks in late summer. When a stalk dies, another stalk begins growing somewhere else on the plant, making them look kind of like flowery cacti.
I'm collecting the flowers as well as the velvety leaves from the plant and drying them. It's kind of an experiment at this point. I've never used them and therefore can't recommend them yet.
But I have read that mullein is effective in treating coughs, bronchitis, sore throats and even hemorrhoids. The more I read about them the more they sound like some kind of miracle plant.

Mullein goes as far back as 2000 years, when Dioscorides, a Greek physician, pharmacologist and botanist, reportedly recommended the plant for treatment against pulmonary disease. Now I don't have any medical or medicinal experience to support this, but I have been curious to try it as a natural remedy for chest colds.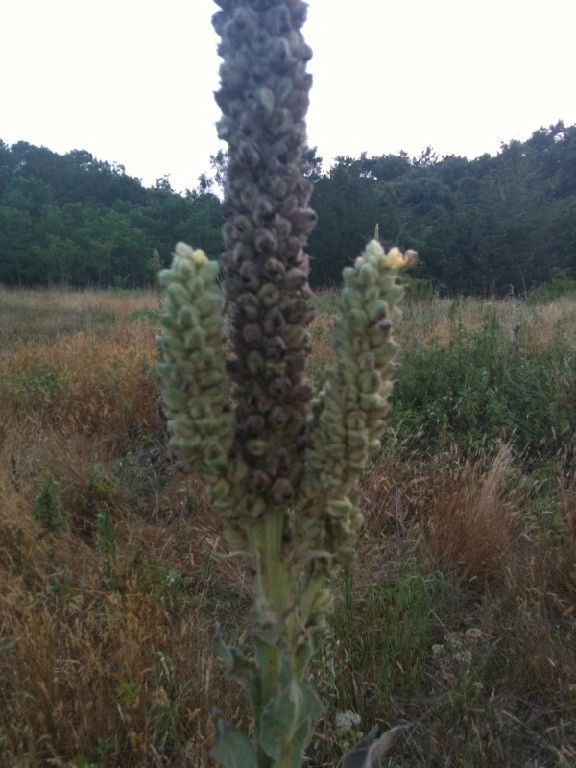 I have some family members, who shall remain nameless, but when they're sick are extremely stubborn when it comes to taking any store bought or doctor prescribed medicines. But they will make and ingest their own home-made medicinal treatments -- go figure.

So that's why I'm now standing out in a hot field, collecting yellow buds off a strange looking plant, dodging bees and other flying insects competing with me for the pretty little blossoms.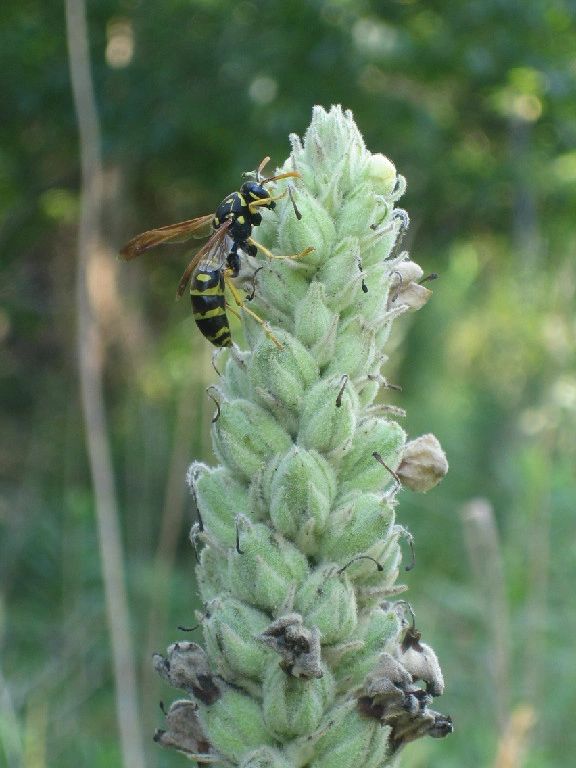 I'm particularly interested in mullein's analgesic and expectorant properties. An expectorant aids the lungs in expelling mucous and phlegm by loosening it from the walls of the lungs, allowing it to be coughed up; Mullein is said to stimulate coughing by assisting the body's natural response to cough it up.

I'm curious to find out if mullein can actually help do this. A strong tea made from the leaves is said to work well. But first in order to drink the herbal tea, it must be filtered because of the fine hairs on the leaves. So I'm collecting and drying mullein over the summer for the coming cold season.

I personally don't have too much trouble with colds and am usually over them within a few days, but my husband can sometimes take more than a week to get over a bad cold, especially if it moves down into his chest. That's why I want to see what mullein can do.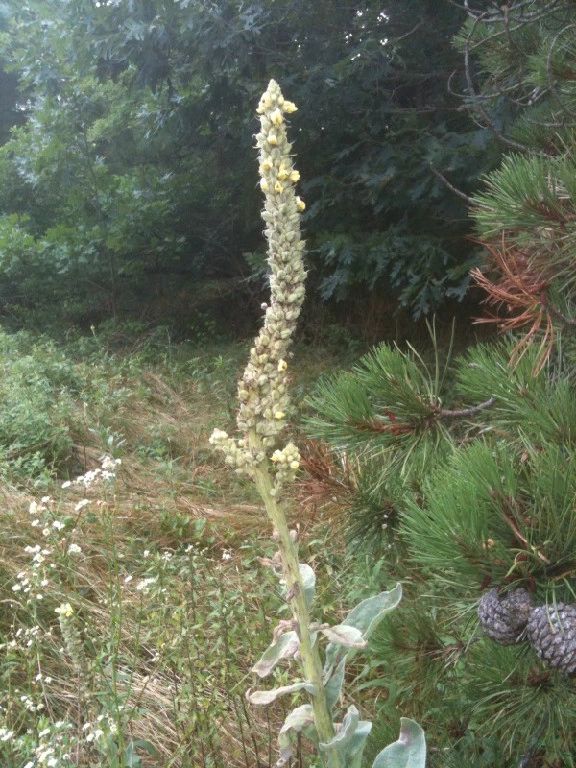 Crooked mullein plants indicate poor soil


It's weird because I've seen mullein growing in fields for years and never thought anything of it, but they have a long history. Mullein was supposedly brought here by the Puritans. Europeans called it "Great Mullein". In North America it is called "Common Mullein" , while out west it is actually called "Cowboy Toilet paper". I guess cowboys liked their toilet paper soft.

Mullein has had over 40 names in the English language alone. Everything from "Hare's beard" to "Old man's blanket" to "Feltwort" to "Lamb's ear". The names most likely referring to the plant's soft and velvety leaves.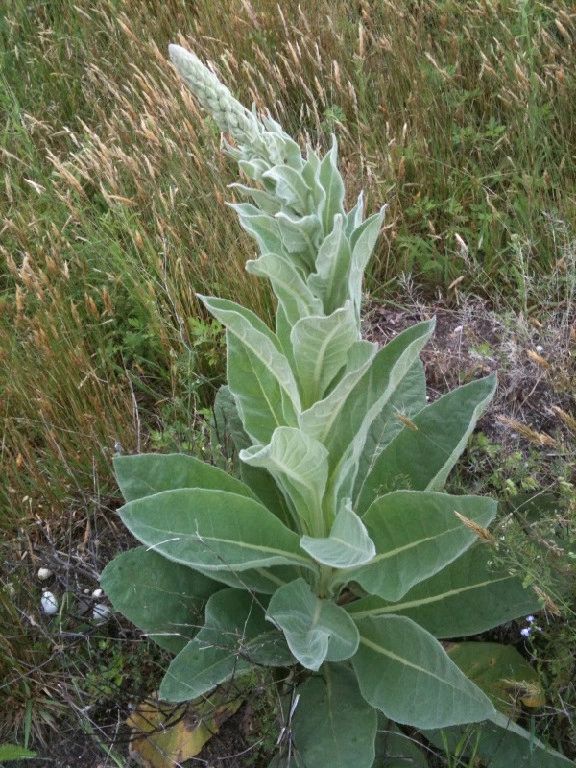 First year leaves are considered better than second year ones


Both the leaves and flowers have been used over the years to treat a variety of ailments and the uses are overwhelming. It's been used for its herbal remedies, having both emollient and astringent properties. It is said to possess anti-inflammatory, anti-tumour, antiviral, antifungal, antibacterial, as well as the expectorant and analgesic properties. Is your head spinning yet?

I have found a lot of natural remedy websites that recommend it for coughs and related problems, but it's also used topically for a variety of skin problems. The plant was also used by Native Americans to make color dyes and can be made into a hair color infusion to lighten locks.
Literally every part of the plant has found a use over the centuries. The leaves were dried to make herbal teas for consumption and dry coughs. Leaves were also smoked to treat pulmonary ailments. The soft, velvety leaves have also been used to make candlewicks and were even placed inside shoes to insulate them. Native Americans were known to make a poultice from the dried, powdered root to treat sores, rashes and skin infections. An infusion of the root is also recommended to treat athlete's foot. In Europe the oil from the blooms was used for everything from colic to ear aches and even frostbite. Anti-tumoral and anti-bacterial compounds are said to be found in the flowers with varying levels of efficiency based on the amounts used. The dried stalks were once dipped in suet or wax to make torches. The stalk was said to be dried as a spindle for making fire …and the list goes on and on.

The only part of the plant in question are the seeds. While they have no health value, they do contain a poison called rotenone, so don't eat them. But some people do grow mullein in their gardens because they are said to repel deer.

I am currently drying both the leaves and the blossoms. Right now I can't offer any recipes as the leaves are still drying and I haven't made anything yet. The leaves will be saved for the winter and flu season in case I need to make up a tea…wonder what that's going to taste like. And the blossoms I'm not sure about yet. Instructions on various sites suggest infusing the blossoms in olive oil and letting them steep for a few weeks, so we'll have to see what handy use I come up with for them down the road.